TPD Series CNC Plate Drilling Machine
Applicable Industry of TPD Series CNC Plate Drilling Machine
Special CNC machine for drilling connection boards and base plates of steel structure, tower, bridge and other industries.
Product Composition of TPD Series CNC Plate Drilling Machine
| | |
| --- | --- |
| 1. Worktable with 12 Sets Hydraulic Clamps | 2. Thickened and Enhanced Movable Gantry |
| 3. Drill Head | 4. Electric Cabinet |
| 5. Hydraulic Station | 6. Automatic Chip Conveyor with Chip Carriage |
| 7. Automatic Recycling Cooling Water System | |
Main Description of TPD Series CNC Plate Drilling Machine
1. Main function: Drilling.
2. Work-piece: Steel Plates, Flanges.
3. Twelve floating hydraulic clamps, four sets work-pieces can be clamped simultaneously.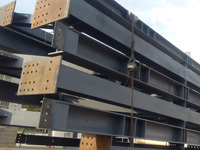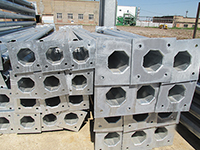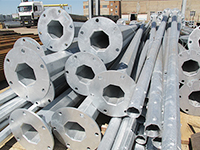 Technical Parameters of TPD Series CNC Plate Drilling Machine
Model

TPD2012

TPD2016

TPD3016

Max size of work piece (mm)

2000×1200

2000×1600

3000×1600

Max. thickness of work piece

Max.100mm, can overlap process for thinner plates

Morse taper

#4

Max. drilling diameter

Φ50mm

Drilling spindle

Rotating speed (rpm)

120-560 (Stepless speed adjustment)

Max. feed stroke (mm)

350

Motor power (kW)

5.5

No. of champs

12

Clamping force (kN/each)

7.5

Motor power (kW)

Servo motors

X axis

1.3

Y axis

1.3

Z axis

0.85

Pump motor

2.2

Motor for swarf conveyor

0.4

Motor for cooling pump

0.43

Net weight(kg)

5200

6200

7200

Overall dimensions (L×W×H)(m)

3×2.15×2.79

3×2.42×2.79

5.5×2.61×2.85
Product Features of TPD Series CNC Plate Drilling Machine
1. This machine aims to drilling holes on the metal plate of building steel structure, power iron tower and petrochemical equipments. It adopts gantry type structure. The axis X, Y and Z are drove by servo motor through precise ball guide screw. It positions automatically, precisely and quickly and finishes the processing of drilling automatically. Therefore, it highly improves the precision and speed. Meanwhile, it avoids repairing and scraping caused by manual position or drilling error.
2. The control system of this machine adopts host computer and PLC control system. The computer is installed with automatic programming software and machine monitoring software, which can convert the AUTOCAD graph file to processing program directly. It also very fast and easy, even programs it manually. The new operator without experiences of operating computer can program it in short time.
3. Automatic chip removal and circulation cooling system reduce the nonproductive time and labor intensity. The operator only need to load and unload work piece and change the drills.
4. The advanced CNC drilling power heads can automatically adjust to optimizing feeding speed and rotational speed through computer control according to different diameter of holes. It also can be adjusted manually according to different conditions. Besides to processing through-hole, it also can process blind holes, counter bore and so on. It has quick chuck device, which make the drills go up and down easily, conveniently and quickly. We also supply Morse 3#, 2# drilling reducing sleeves, which fit for below φ50mm twist drills.
5. This CNC drilling machine is designed according to the work piece features and precision requirements; it has compact form and is flexible, it meets the processing requirements better. No matter the holes are arranged as circle or straight line, it can finish the work quickly and accurately. Therefore, this machine is cost-effective choice.
Main Parts of TPD Series CNC Plate Drilling Machine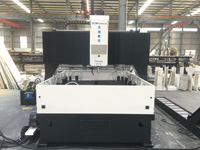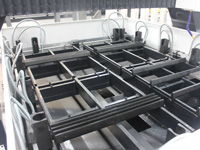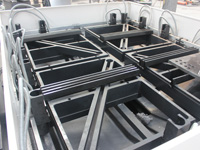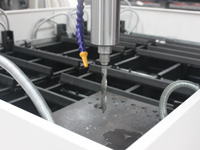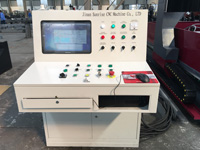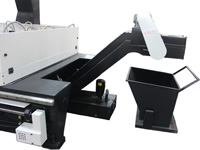 Workpieces of TPD Series CNC Plate Drilling Machine